Noble Chemical QT-40 Quaternary Test Paper Dispenser - 0-500ppm
Item #: 373QT40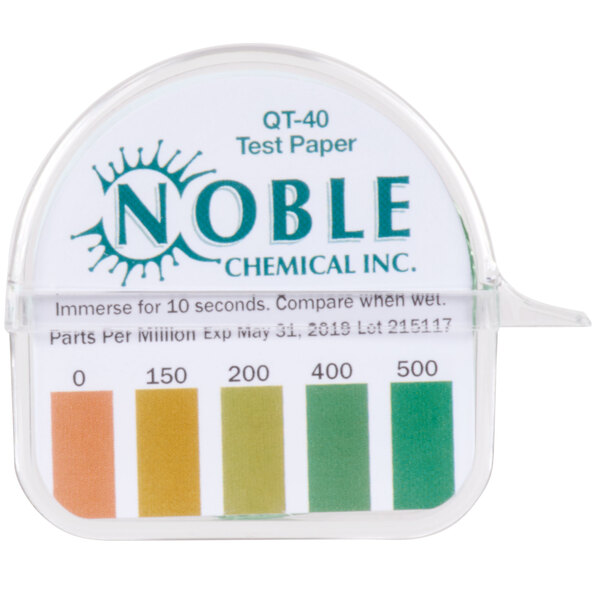 Product Description
Quaternary test paper is the simple, reliable, and economical way to measure the concentration of quaternary sanitizers, particularly multi-quat, broad range quaternary ammonium sanitizer solutions (3rd, 4th, and 5th generation). This Noble Chemical QT-40 test paper measures concentrations between 0-500ppm (parts per million), with color matches at 0, 150, 200, 400, and 500ppm. The distinct color match at each full unit makes it easy for the user to detect exhaustion of solutions that should be replaced. It also helps avoid the use of excessive amounts of sanitizing agents, to avoid wasting product! Simply tear off a small strip of test paper, dip the strip into the sanitizing solution for 10 seconds, then instantly compare the resulting color with the color chart. The distinct color chart and accurate, reproducible readings give an immediate response for quick and easy use.

Federal, state, and local health regulations require users of quaternary ammonium sanitizer solutions to have appropriate test kits available to verify the strength of sanitizer solutions. Sanitizer solutions are essential in the food service industry to ensure that sanitizers are at the proper concentration specified by the individual manufacturer.

The test solution should be between 65 and 75 degrees Fahrenheit. Do not test foam. Contact your local, state or federal health department for quaternary ammonium sanitizer concentration requirements. These concentrations may vary depending on your specific application. This test paper should not be stored in an area with high humidity or in an area where they may be exposed to water before use.